Productivity ImprovementsRealtime InformationMultiprotocol Communication Data Driven DecisionsScalable and Flexible Data ConcentratorsProduction Cost Reduction
ElcoMES a Platform for Industry 4.0
Digital Factory Transformation
Industry 4.0 and industrial internet of things (IIoT) are reshaping manufacturing processes and products by leveraging sensor data, machine-to-machine communication (m2m) and automation technologies.
Elco Solutions
 provides production intelligence consultancy supporting manufacturing organizations in improving productivity and reducing production time and costs. Our real-time factory floor monitoring and supervision tool features capability to measure key performance indicators, enabling data-driven decisions and statistical process control.
The entire production process from raw-material consumption up to order progress can be monitored providing a detailed real-time data source for management and planning.
Advantages Industry 4.0
Take advantage of IIoT (Industrial IoT) and effective production control using MES (Manufacturing Executions Systems)!
Productivity Improvements
Reduce unit and process costs
Improve cycle times
Decrease downtimes
Fault prevention
Increase in delivery performance
Optimize capacity utilization and load distribution
Real-Time Information
Visualization of real-time data
Maintenance notification
Feedback for planning systems
Statistical process control
Order progress
Cost Reduction
Optimization of production procedures
Exploitation of Resources
Waste recovery, etc.
Cost-efficient solution by upgrading legacy machines
Risk reduction of human error and acceleration of the induction of new employees
Quality and Compliance
Support of complaint management
Quality optimization based on process data and continuous improvement
Quality management (ISO 9000, ISO/TS16949)
Ensures high quality and prevents equipment from being lost or stolen
Quality is our business plan!
Don´t wait for opportunity. Contact us!
Elco Solutions Platform for Industry 4.0: ElcoMES
Take advantage of IIoT (Industrial IoT) and effective production control using ElcoMES (Elco Manufacturing Executions Systems)!
Division into individual modules
Products are subdivided into individual modules. Customers can combine module selection depending on requirements.
Specific key performance indicators
Interfaces to common ERP systems
Connectivity and data collection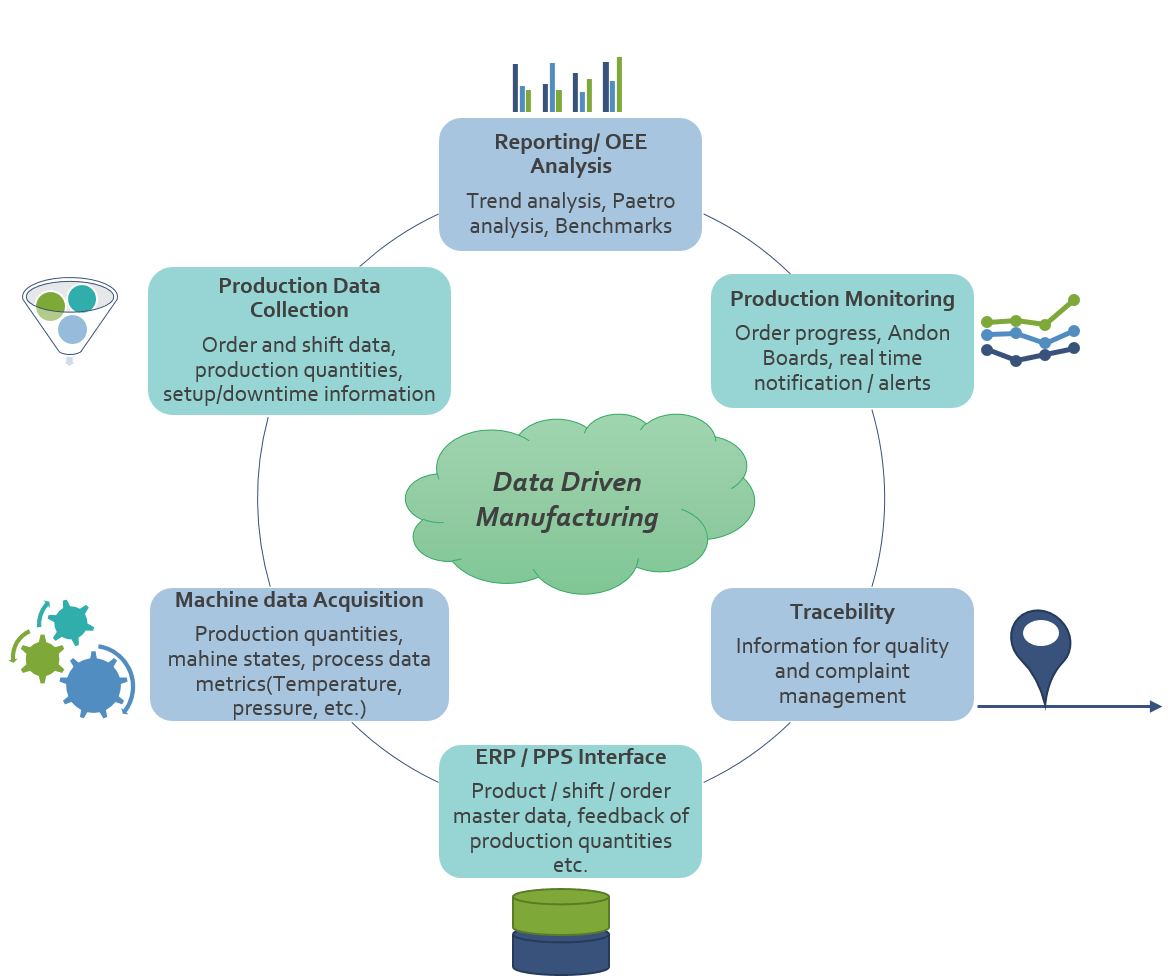 Why Choose ElcoMES
Choose our innovative solution and take advantage of fast integration and flexible configuration!
1. FAST INTEGRATION
Fast Integration and flexible configuration facilitate the adaptability of Industry 4.0. Machines are connected easily and can be adapted over changing requirements.
2. PEOPLE AS A KEY PLAYER
People are the key players in the factory. Elco Solutions focuses on workers to make the process easier, safer, and more efficient. Productivity is enabled through technology.
3. CONNECTIVITY
Elco Industry 4.0 platform supports all known industrial communication standards, such as Modbus RTU/TCP, Profibus, Profinet, RS485, etc.
Additionally, Elco Solutions brings connectivity to legacy machines and tools, which are not designed to share data by connecting them to the ELCO25 Gateway mechanism.
4. AFFORDABILITY
Stay under budget with a minimum 25% cost savings over in-house development. Save huge development costs with software building blocks that we have already created.
DIGITAL TRANSFORMATION
Software is key for companies to surf the digital wave. This is important as digital is the new normal. Adapt or be disrupted!
Companies are either born digital or they are in the midst of a rapid digital transformation. Elco Solutions is helping organizations accelerate time-to-market, creating new products/services, driving operational efficiencies, and delivering new client experiences.
About Elco Solutions
Elco Solutions is a privately owned company established in 2015 with a focus on software development and digitalization services. Elco solutions covers the entire software development process, from the communication layers up to the application layers. We provide a complete solution for embedded software, focusing on factory automation and industrial communication systems. Our software experts support the design and development of customer-specific projects subject to customer coding guidelines.
Elco Solutions Tunisia
Immeuble B, 5éme étage, AFH/BC5
Centre Urbain Nord
1003 Tunis
Tunisia
Elco Solutions Germany
Esslinger Str. 7
70771 Leinfelden-Echterdingen
Germany