DCIM Environmental Conditions Monitoring
Maintaining constant updates in data centers has become crucial to organizations, with the success of the clients defined by the ability to provide high-availability services. Properly designed data centers have redundant hardware, such as UPS, air conditioning, and generators. These equipment and the environment of the servers should be constantly monitored so that any faults can be handled before they affect the running of the services and the availability of the servers. Environmental monitoring is vital to data center maintenance.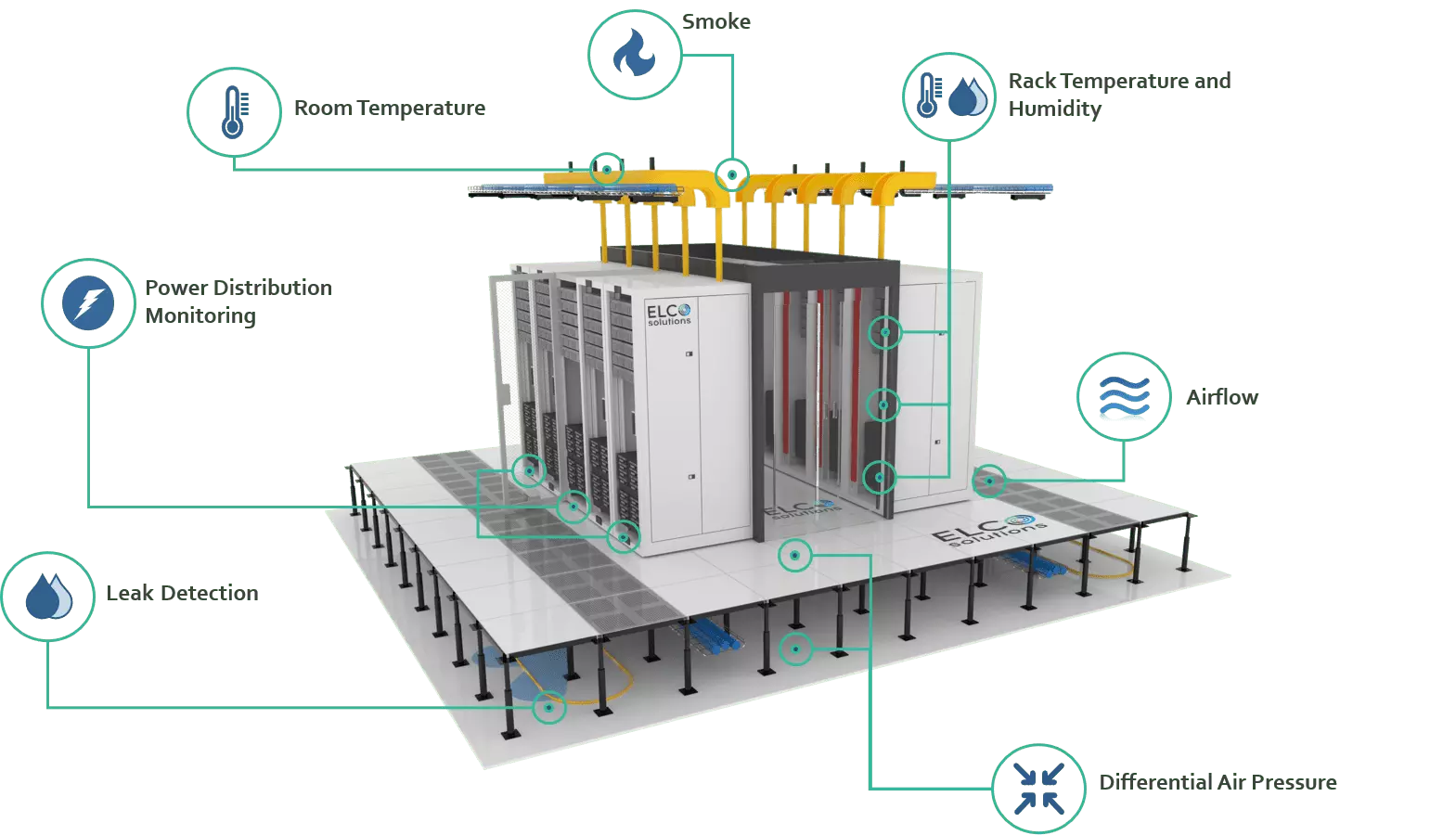 Gain real-time insights about your data center environment
As data center and facility managers continuously strive to improve energy efficiency, environmental monitoring is becoming crucial. Only on the basis of parameters can an objective conclusion be made about the power usage effectiveness. Data based optimization of cooling load and power management at PDUs, Racks, Cabinet rows, rooms etc.
Contact Us!
ElcoEMS Benefits
Take advantage of IoT and gain actionable insights using ElcoEMS (Elco Environmental Monitoring System)!
Productivity Improvements
Ensure uptime by monitoring racks for potential hotspots

Fault prevention

Stay alerted 24/7 about service-impacting conditions

Optimize capacity utilization and Power distribution
Real-Time Information
Visualization of real-time data from temperature, humidity, smoke, air pressure, and other environmental sensors

Monitor the health and energy usage of each branch circuit in data centers

Maintenance notification and alerts in real time
Cost Reduction
Efficient energy management and cost reduction

Avoid overcooling to save up to 30% of your cooling costs

Manage airside economization 

Know how much to humidify
Assets Management
Quickly and easily manage your assets

Easily assign PDUs, colocation areas, branch circuits to customers, and monitor fullfillment of customers' requirements 

Ensure high quality and provide daily or monthly customer specific reports of power usage and environmental conditions
Quality is our business plan!
Don´t wait for opportunity. Contact us!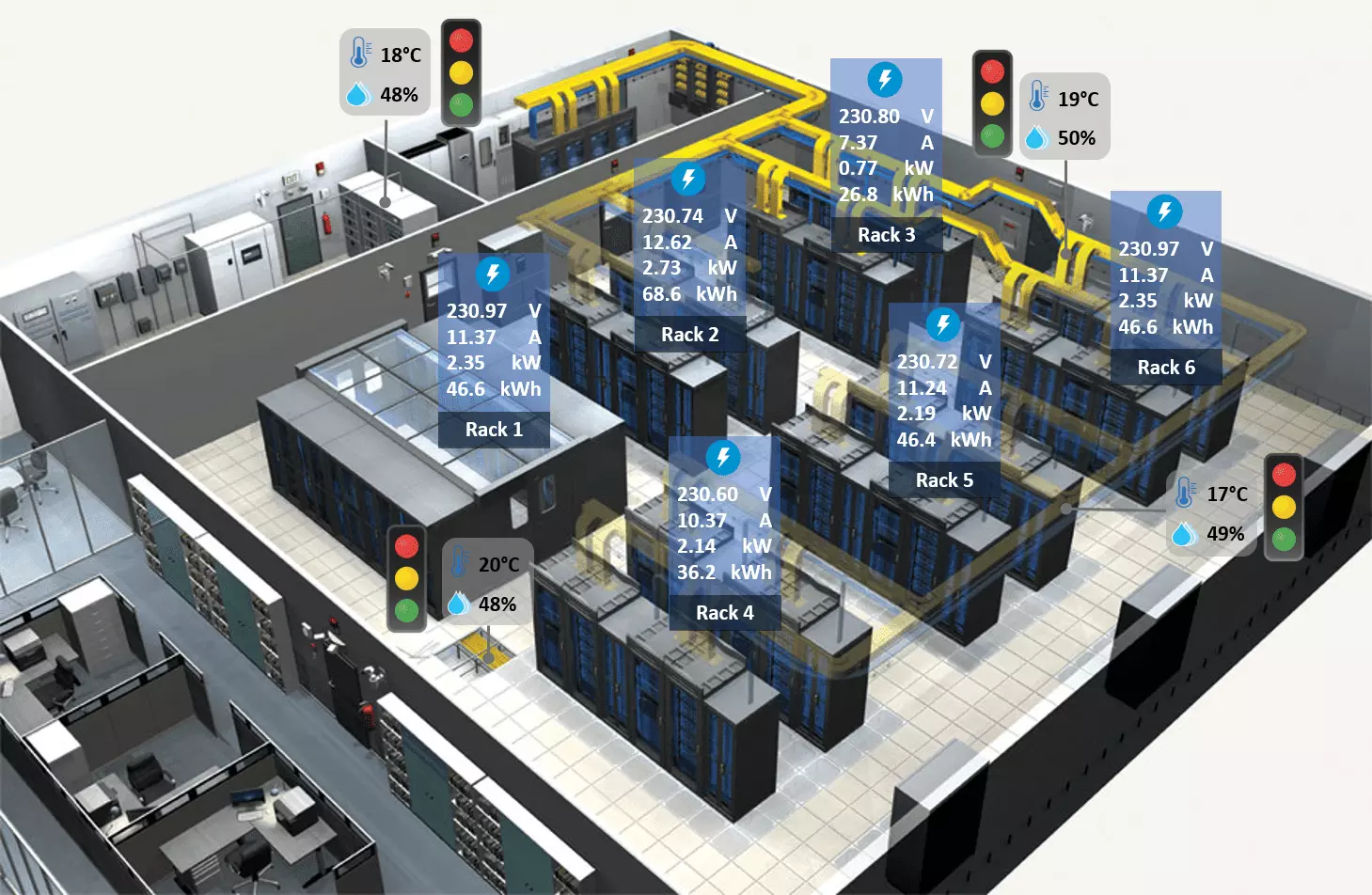 Interactive Data Center Map
A real-time interactive data center floor map provides a bird's eye view of environmental data, including power, current, temperature, humidity etc.
Real-time notifications and alerts for critical environmental conditions are displayed on the floor maps.
Customer Success Story
Telehouse France contracted with Elco Solutions — a leading innovator in the Data Center EMS Vendor and Integration space. Elco Solutions has already deployed the system inside the brand-new data center in Paris. This partnership will allow Elco Solutions to provide its specially-adapted power and environmental monitoring solution, based on the innovative ElcoEMS hardware and software, to ensure uptime, efficient energy management, and high-quality customer specific power usage reports for Telehouse.
Energy efficiency and uptime are of paramount importance in colocation data centers. ElcoEMS is an innovative solution that enables our data center managers to monitor the health and energy of each branch circuit and gain real-time insights about our data center environment conditions
Why Choose ElcoEMS?
Choose our innovative solution and get advantage of fast integration and flexible configuration!
1. FAST INTEGRATION
Fast integration and flexible configuration facilitate the adaptability of ElcoEMS. Third-party hardware can be connected easily and adapted over changing requirements.
2. SECURITY
Local deployment of ElcoEMS and the use of state-of-the-art security technologies ensure protection of corporate facilities and IT from attacks and faults.
3. CUSTOMIZABLE
People are the key players in managing data centers. Elco Solutions focuses on best user experience based on a customizable environmental monitoring system.
4. ONE-STOP SHOP
Elco Solutions provides a turnkey environmental monitoring solution for data centers including hardware, software and onsite deployment.
.
What our customers say about us
These guys are fantastic. I struggled with the issue I called about for well over a week and these folks had it fixed in about 4 hours. Great service, easy to work with, extremely knowledgeable, and a tremendous value. Highly recommended.
Elco Solutions is a reliable partner to meet the challenges in a rapidly changing and dynamic data center market. Elco Solutions is the company of choice for Power and Environmental monitoring. We look forward to continuing our close and trustful cooperation with Elco Solutions in the future.
Get a FREE, no-obligation consultation
Get a FREE, no-obligation 60 to 90-minute consultation, at no cost to you!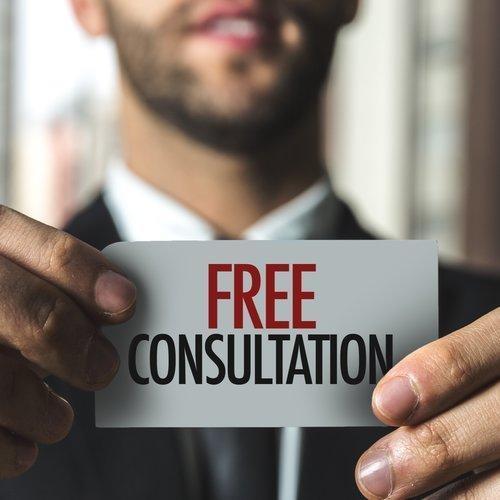 Check out our solutions and services for data centers with a FREE, no-obligation 60 to 90-minute consultation. At no cost to you, we will:
Assess the technical merit, feasibility and quality of ElcoEMS 

Provide suggestions for improvement (simplification, optimization, new features, etc.)

Provide a budgetary price and schedule if you have a full specification

Answer your questions so you can assess how we can meet your budget, schedule, and technical requirements
Regardless of whether you choose to work with us, this session will give you valuable information about your environmental conditions. Plus, it is entirely complimentary.
DIGITAL TRANSFORMATION
Software is key for companies to surf the digital wave. This is important as digital is the new normal. Adapt or be disrupted!
Companies are either born digital or they are in the midst of a rapid digital transformation. Elco Solutions is helping organizations accelerate time-to-market, creating new products/services, driving operational efficiencies, and delivering new client experiences.
About Elco Solutions
Elco Solutions is a privately owned company established in 2015 with a focus on software development and digitalization services. Elco solutions covers the entire software development process, from the communication layers up to the application layers. We provide a complete solution for embedded software, focusing on factory automation and industrial communication systems. Our software experts support the design and development of customer-specific projects subject to customer coding guidelines.
Elco Solutions Tunisia
Immeuble B, 5éme étage, AFH/BC5
Centre Urbain Nord
1003 Tunis
Tunisia
Elco Solutions Germany
Esslinger Str. 7
70771 Leinfelden-Echterdingen
Germany