Open Source SoftwareCE & IEC61131 CertifiedMultiprotocol Communication Modular IO-ModulesScalable and Flexible PLC
Based on high performance microprocessor
Get your ELCO25 Board
A combination of open source flexibility and industrial PLC reliability!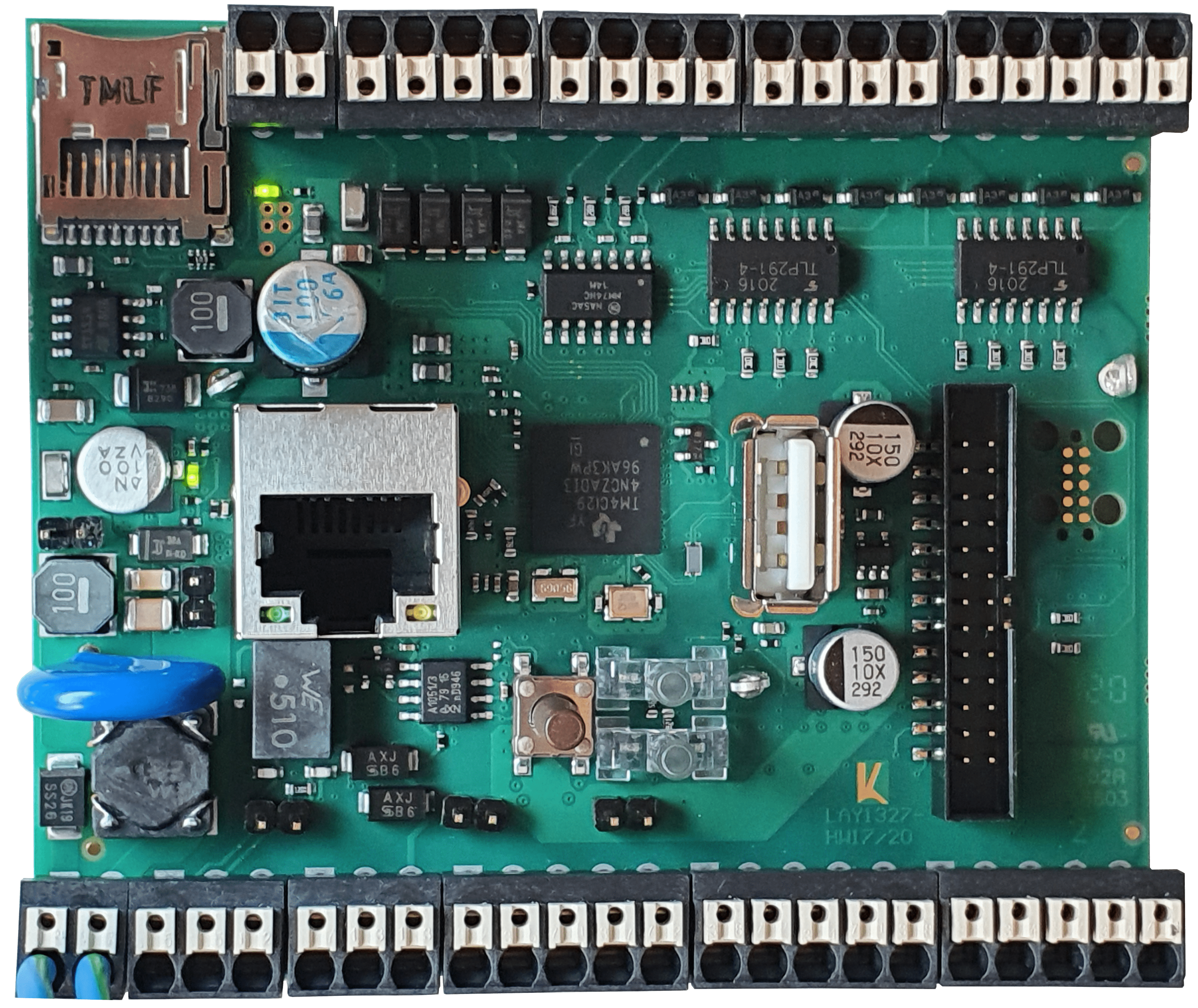 Introducing
ELCO25 PLC
EN61010-1 / EN61010-2 / CE Compliance
DIN-rail housing
12x 24V Digital Inputs
4x PNP Outputs up to 60V
4x Analog Input 0V- 10V
3x Encoder Inputs
Ethernet RJ45, 10/100Mbps
1x CAN(Optional), 1x RS232, 1x RS485
Get Your Board!
What is ELCO25?
A combination of open source flexibility and industrial PLC reliability!
Description
ELCO25 is an open source PLC. It is the perfect compromise between compact size and big input and output number. It combines the flexibility and open-source nature with the safety and reliability of industrial grade PLCs.
The Board is a low cost, feature rich industrial controller platform that can serve as a foundation for many applications within the IoT, industrial automation and Industry 4.0 fields. The controller is composed of a high performance microcontroller, power regulations, transceivers and other core functions required to bring up the microprocessor. Analog peripherals such as 24V power input, buttons, connectors, signal breakout and industrial IOs are surrounding the microcontroller.
Housed in a DIN-rail housing, the industrial controller ELCO25 can be seamlessly expanded by a variety of suitable I/O modules and fieldbus gateways. The 24V powered modules are connected via an overhead connector in seconds and can be easily configured.
ELCO25 has been designed with highest industry & electronic safety standards in mind. You can safely and reliably apply our module into a production environment.
Digital Inputs
Scalable 24V isolated digital input channels with ESD protection and other safety mechanisms.
Industrial Communication
Interface ELCO25 over Modbus TCP/RTU, TCP/IP, RS485, RS232, CAN and other industry standard interfaces.
Digital Outputs
Scalable 24V isolated digital high side output channels, rated at 2A @ 24V.
Real Time Clock
An RTC module is integrated in every ELCO25 with battery backup.
Analog Inputs
ELCO25 comes with scalable 0 - 10V Analog Inputs that can be used to sample Sensor measurments.
Data Logger
ELCO25 comes with an SD Card Interface that can be used for data logging.
DIGITAL TRANSFORMATION
Software is key for companies to surf the digital wave, whilst digital is the new normal – adapt or be disrupted.
Companies are either born-digital or are in the midst of a rapid digital transformation. Elco Solutions is helping organizations accelerate time to market, creating new products/services, driving operational efficiencies and delivering new client experiences.
About Elco Solutions
Elco Solutions is a privately owned company established in 2015 with a focus on  software development and digitalization services. Elco solutions covers the entire software development process from the communication layers up to the application layers. We provide a complete solution for embedded software focusing on automotive, factory automation and industrial communication systems. Our software experts support design and development of customer specific projects subject to customer coding guidelines.
Elco Solutions Tunisia
Immeuble B, 5éme étage, AFH/BC5
Centre Urbain Nord
1003 Tunis
Tunisia
Elco Solutions Germany
Esslinger Str. 7
70771 Leinfelden-Echterdingen
Germany